Price of wine getting you down lately?
We know your wine hobby can be expensive and vineyard visits seem more like a dream than tangible reality. So we've gathered some wallet saving tips for your wine lifestyle.
1) Groupon
Groupon is a great way to get tastings, bulk wine orders, wine gifts, and vineyard visits on the cheap! We personally have used this website to visit many local places for half the price. Use this for sangria at your local paint night, discounts on local event tickets, and even custom made wine bottles. Sign up now to get 20% your first groupon order.
2) Localwineevents.com
This website specializes in wine education AND wine fun. Not only does it list events and festivals near you, but it lists wine getaways in places like Europe and California. Their newsletter lets you know ASAP about early bird ticket sales and fun wine facts/trivia. This is the same website that we used to discover Wine Riot Boston; you might remember our review from a previous post.
3) Superstore Newsletters
This next tip may sound lame at first, but we swear your wallet will thank you later. Join the email list or mailing account of your local packies, wine superstores, and local small wine shops. The packies and superstores often have special sales or wholesale discounts, but the smaller shops tend to host cheap and intimate wine events where you may even get to meet a winemaker and get the inside scoop. This may flood your email a bit, so maybe make an easy gmail or yahoo account for all your wine info needs (or send them all to your Promotions folder).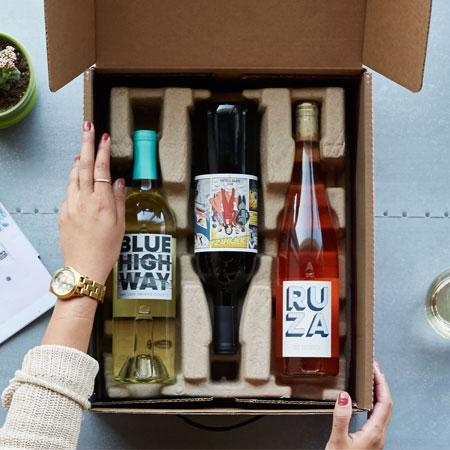 4) Join a Wine Club
Wine clubs are a great way to get different bottles each month without having to spend a lot of money. Some local shops may have their own clubs but many online vendors have bottles that get shipped directly to your house. Some of the cheaper online clubs include Tasting Room, WINC, Cellars Wine Club, and for more options/reviews check out this article from Urbantastebud. For local options, look to the newsletters from option #3 to see if any stores near you offer a monthly club. Local shops would take out your shipping costs completely so we recommend checking around first.
5) Tasting Events
Nearly every liquor and wine shop has tasting events on the weekends so swing through quickly as you go about your day to see what they are pouring. 9 times out of 10 there's a discount on the wines being served or even a case discount. This way you know you like the wine before you buy and you snagged a deal that day. Worse case scenario, you go home with a bottle of your favorite wine instead of what they offered you.
Feature Image Credit: Dave Dugdale
Superstore Image Credit: Hip2Save.com